Tour Guides
Our guides offer much more than a look at the mines. Storytellers at heart, most of the Mine's guides grew up or spent formative years on Bell Island. No doubt that's why they all share a passion for telling the rich tales of our past. When you pay us a visit, you'll hear many of these stories, including those passed down by their fathers, mothers, aunts, uncles, and grandparents who worked here.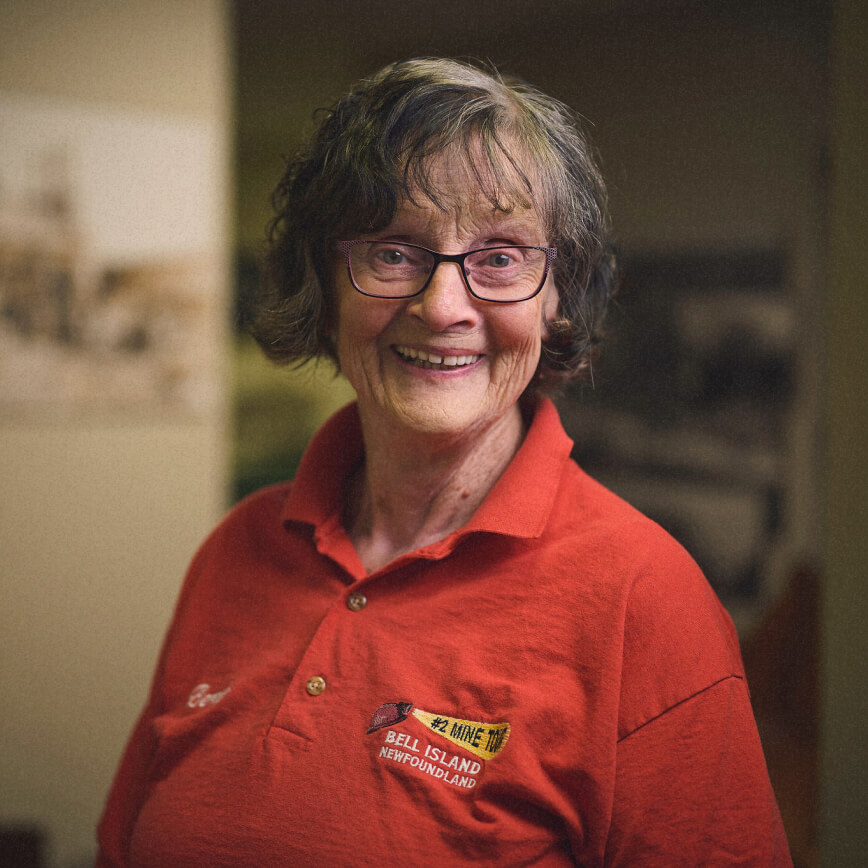 Tour Guide
Bernadette Hammond
Daughter of Bell Island's first lighthouse keeper
A Bell Island Mine Tour and Museum guide since 1998, the year the #2 Mine opened for tours, Bernadette comes from a family of seven, all born and raised in the Bell Island lighthouse. Her father was the island's first lighthouse keeper, the service having been started just prior to the start of WWII to handle ships waiting to load up with ore. She recalls as a child watching her father "tie himself off" with rope when he'd set off to start the foghorn, so thick was the fog at times.
 
Bernadette also remembers growing up without electricity, and the excitement she and her sisters felt when the family got their first refrigerator. (A luxury that meant the family could have jelly during the summer months!) She loves her team at the #2 Mine Tour and Museum and dedicates all her tours to the hard work and sacrifice of the miners who went before them.
Tour Guide
Bonnie Spracklin
Daughter and granddaughter of Bell Island miners
While her ancestors didn't actually live on Bell Island in the old days, Bonnie herself raised a family of seven on these very shores. Members of her family did work the mines however, commuting weekly by boat from Flatrock, near Carbonear, for many decades. On the island, they'd live in mesh shacks and boarding houses, working six days per week, returning home Saturday night and heading back Sunday evening.
 
One of Bonnie's favourite stories is how during winter, the water between the island and the mainland would fill with ice, letting her family walk home across the floes. One such winter, her uncle Jim fell through the ice pans and went down into the water. Luckily, his brothers were able to fish him out, strip him down and share their clothes with him, saving his life. It took them nine hours to get to shore.
 
Another of her stories, and one of Bell Island's saddest tales, is that of her great uncle who was killed in a mine explosion in 1908. He was 17. Bonnie is happy to share these stories, along with many others, to help keep the miners' history alive for our many guests.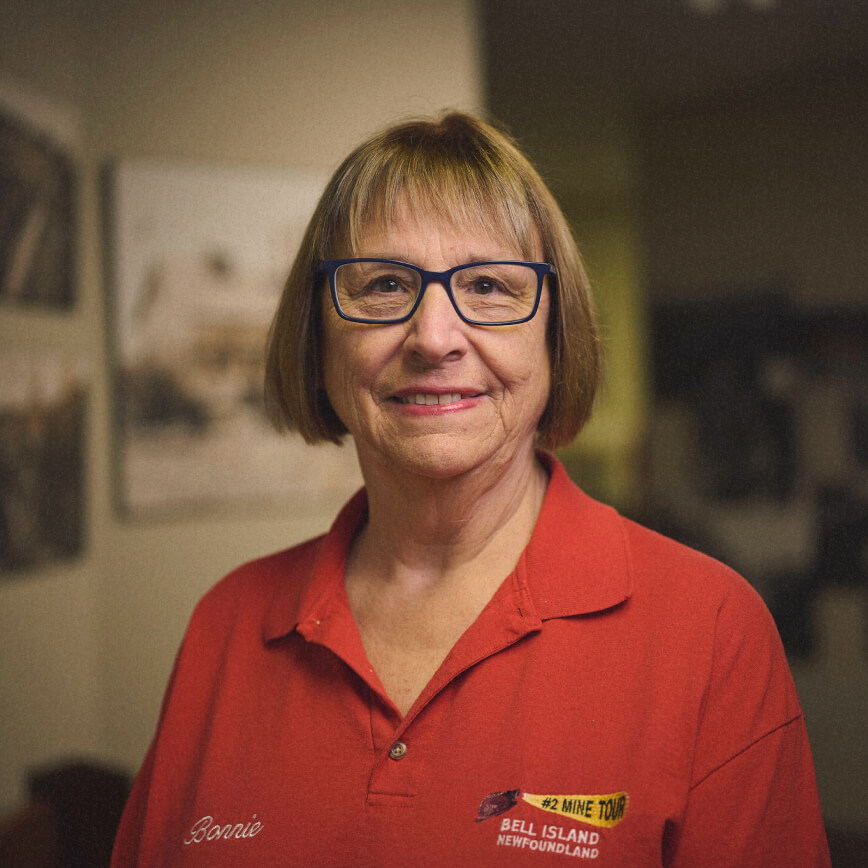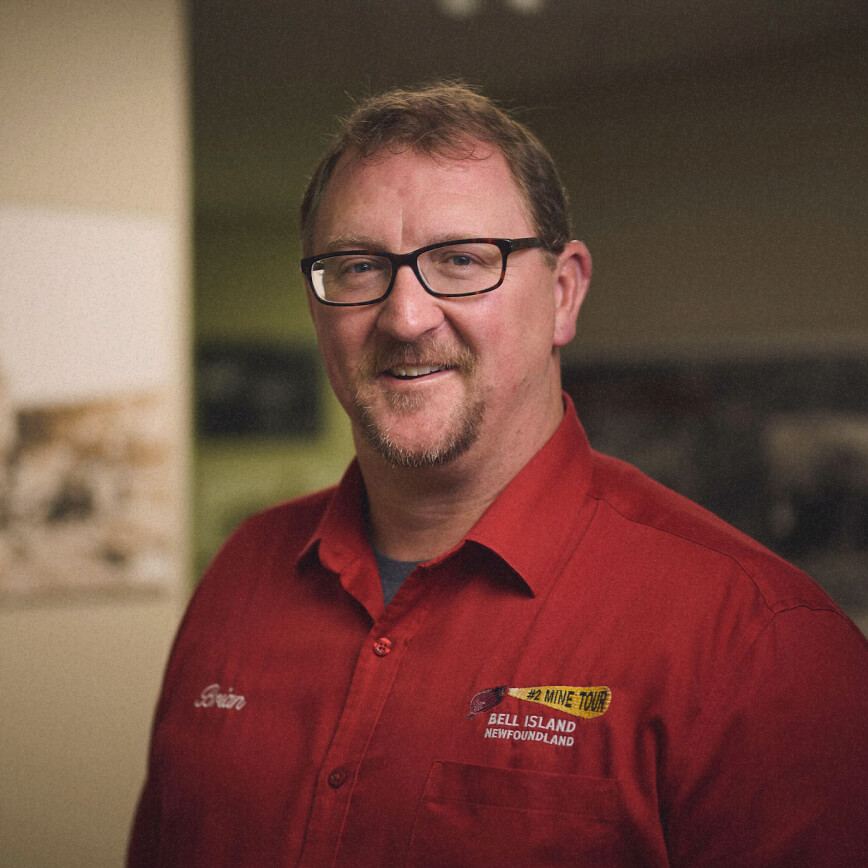 Tour Guide
Brian Hickey
Grandson and great-grandson of Bell Island miners
Born and raised on Bell Island, both of Brian's grandfathers and their fathers before them, worked the mines for many years. His family made their way here from Harbour Main and Colliers, NL, respectively. Now, according to Brian himself, he and his wife (also a Bell Islander) are all that's left.

Brian's family history has provided him with many stories to share of 6-day weeks and 10-hour days spent mining ore deep beneath the sea. Of particular interest to him is the key role Bell Island played during WWII and how the mines supplied Canada and England with ore to help with the war effort.

Brian is proud of his role as a Bell Island tour guide and the opportunity it gives him to share the enduring legacies of the miners of the past. In fact, he says the job makes him feel like he's continuing on with his grandfather's work. If you've got questions, he's more than happy to answer them.
Tour Guide
Geraldine Hibbs
Daughter and granddaughter of Bell Island miners
A tour guide since 2017, Geraldine Hibbs was born and raised in a family of six kids here on Bell Island. Her father was a miner. Unfortunately, his mining days were cut short as a young man due to an accident down in the old #3 mine. On that fateful day, a tram car broke from the mine's rail system, pinning him up against a wall of ore. His injuries were so severe that he lost his leg. Still, some years later, he worked down at the pier where ore was shipped, and his legacy lives on in the stories his daughter tells today.

After spending nearly 30 years living "away" in Ontario, Geraldine and her husband (also a Bell Islander) moved home in 2009. She loves the island's laid-back lifestyle and is a big fan of meeting our guests from around the world. In fact, she says that this aspect is "the greatest" part of the job, and it shows.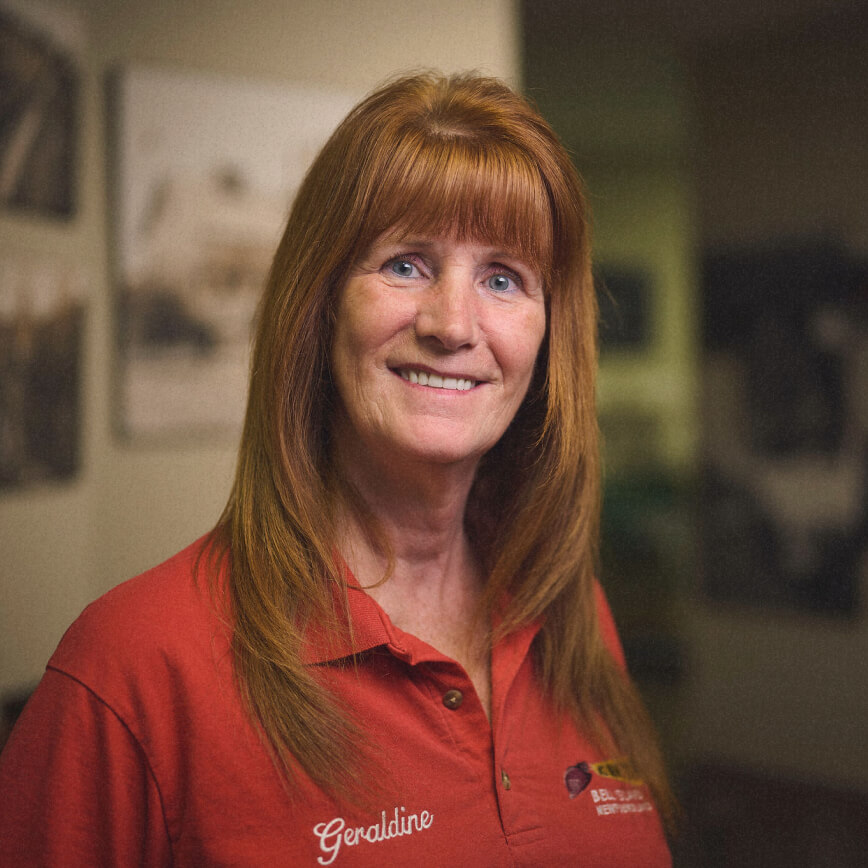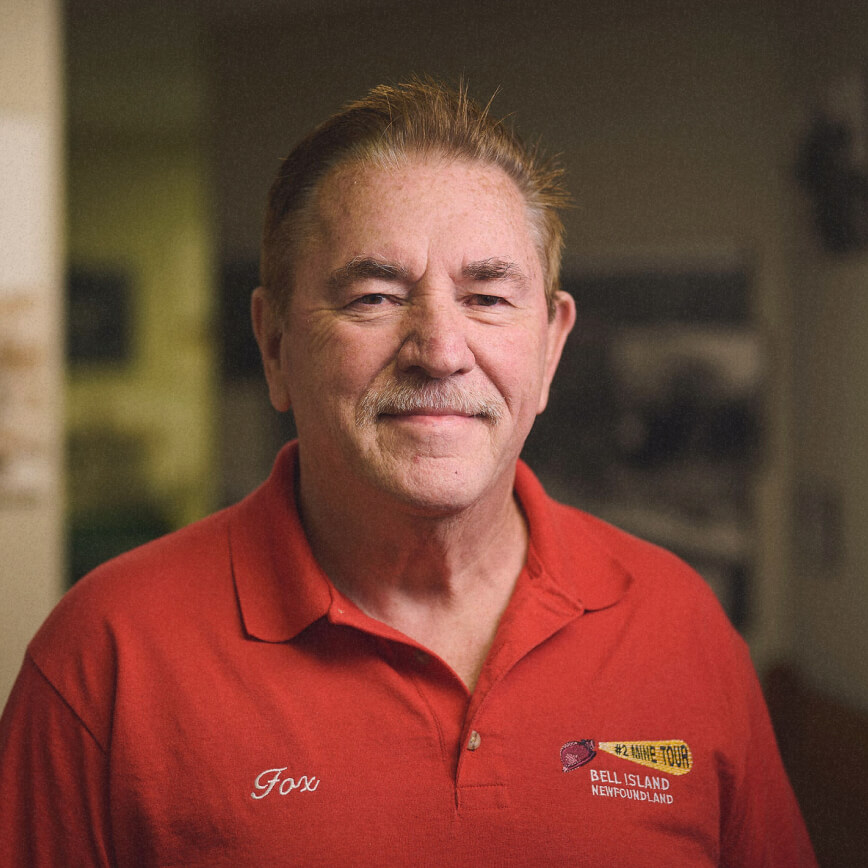 Tour Guide
Ray "Fox" Galway
Son and grandson of Bell Island miners
After 41 years living "away" in Ontario, Ray (Fox) Galway returned home to Bell Island, his birthplace, to retire and work as a tour guide. The son of a miner, his father worked in the mines for roughly 30 years.
 
Only twelve years of age at the time of the closure, Ray still has many cherished memories of the old days when miners would gather at his house on Saturday nights to socialize and spin yarns of their work in the deeps. Because of these stories, when he made his own first visit down into the mines many years later, the moment was an emotional one. The visit reminded him of the stories told by the old miners who had shared them, many Saturday nights in the past.
 
A part-time singer and all-around entertainer, Ray loves working at the #2 Mine Tour and Museum and meeting our guests from around the world.
Executive Director
Teresita E. McCarthy
Daughter and granddaughter of Bell Island miners
An associate of the #2 Mine Tour and Museum since its founding in 1994, Teresita was raised in a mining family. Her father worked the mines here until they were closed, and often told funny stories of the day-to-day goings-on down in the deeps. One of her strongest memories of those times was seeing animals and bed sheets coloured red by the ore that blew over the island in windstorms.
 
In her adult life, Teresita taught primary and elementary school here on Bell Island for 33 years. She also served as the President of the Museum Association of Newfoundland for a time. A recipient of the Canadian Museum Association Award for Distinguished Service and the Queen's Diamond Jubilee Medal for contributions to her community and province, Teresita was also elected as a councillor for the Town of Wabana in December of 2014. She has many tales to tell.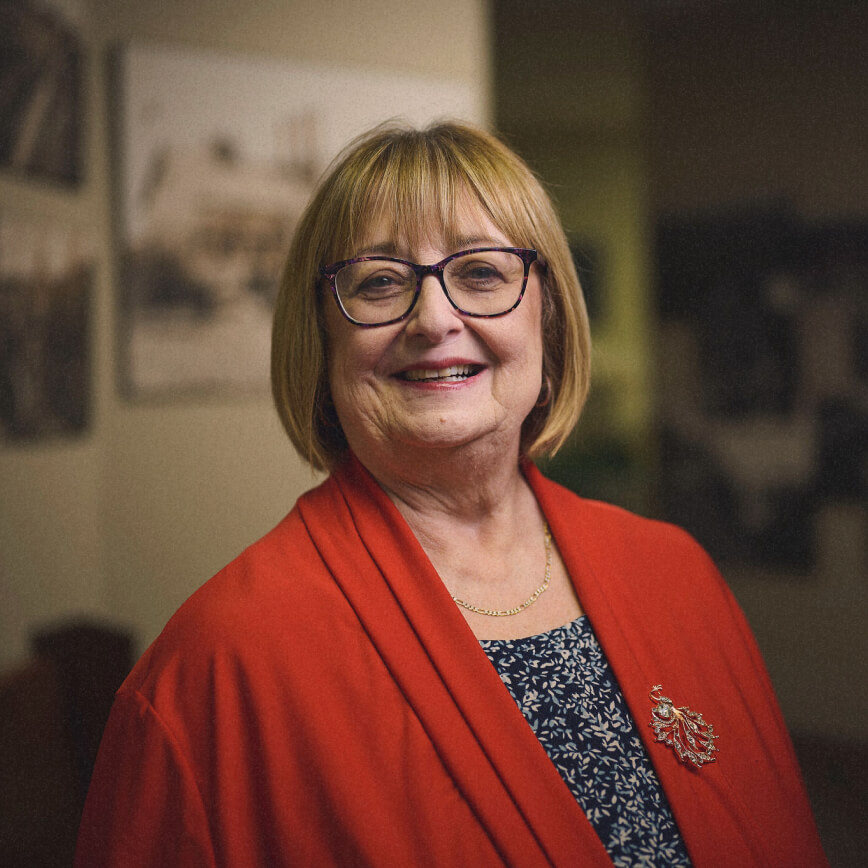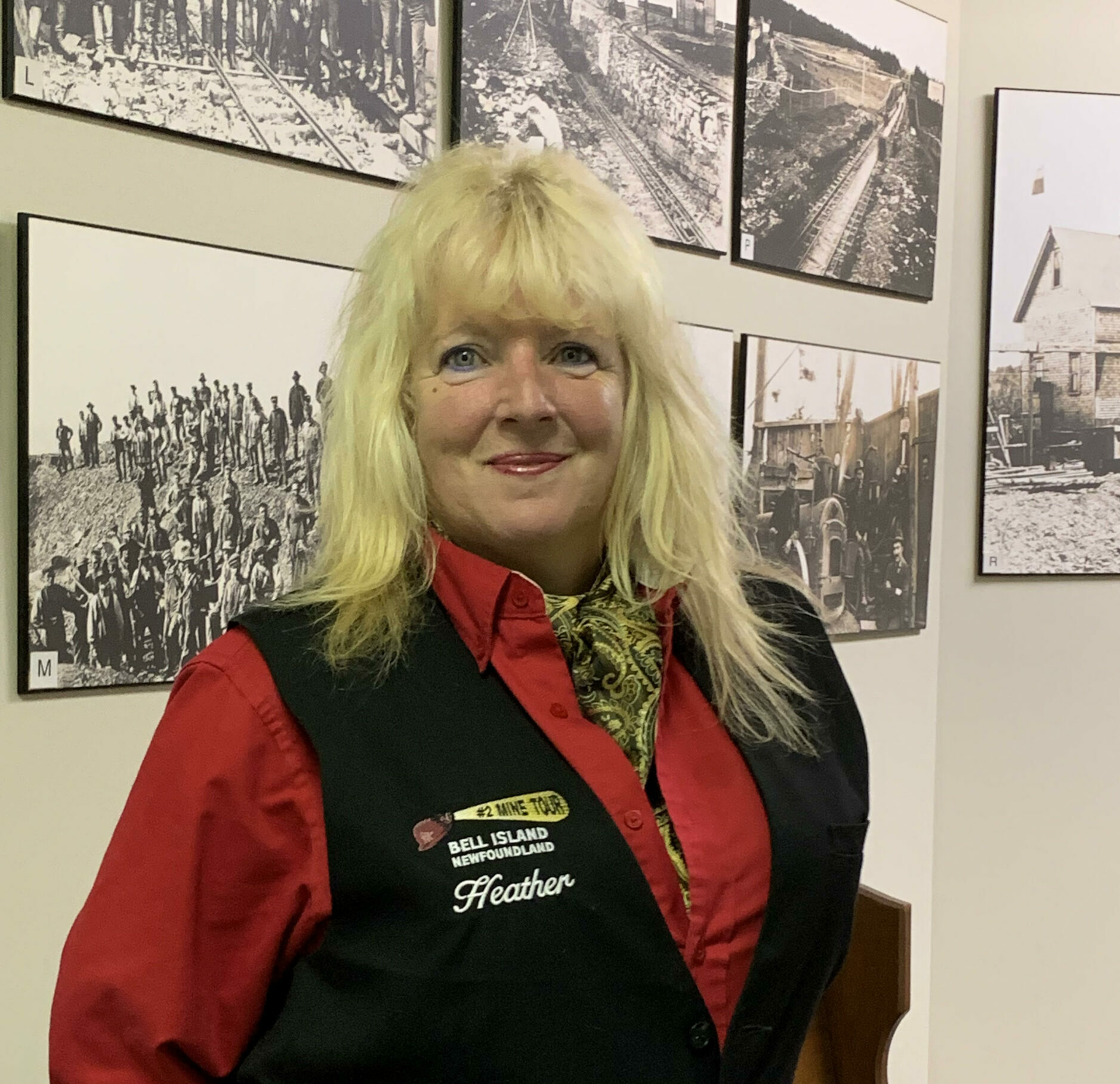 Tour Guide
Heather Chafe
I proudly worked with my family business Wm.L.Chafe & Son Ltd. for many years. My father was the son. I transcended into aiding in the development of the Real Game Series-career exploration program, currently infused with Career Cruising. Prior to joining the team #2 Mine Tour and Museum Heritage Society I worked with the seniors of Bell Island helping to restore dignity in the latter years of their lives. In considering if I wanted to work with the children or the seniors or the community of Bell Island I was very fortunate to join the team at the #2 Mine and Museum Heritage Society.
Now I have the privilege and pleasure to find myself working with all sectors. I am truly excited to share the history of Bell Island with all of our guests from all over the world thanks to the amazing Board of Directors as well as my Boss for allowing me the opportunity to do so.